Pilzbrutversand Krämer - Our information pages on growing mushrooms
This website contains detailed information on growing edible mushrooms at home or in the garden.
We hope it will answer most of your questions. You can also download our growing instructions as PDF files. If you can't find the information you need, send us an e-mail or call us on the phone!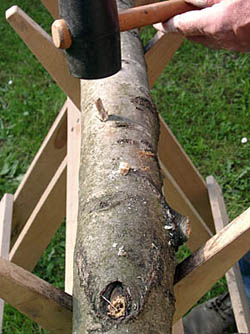 It's not difficult to inoculate logs with
mushrooms. We explain how to do this.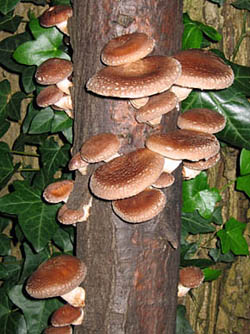 It's fun to harvest your own mushrooms.
Shiitake mushrooms in the garden.

Do you want to buy mushroom spawn?
Please visit our webshop www.shii-take.de where you can order our mushroom spawn online
(our shop is in German and English).
We export our products to all EU countries, Scandinavia and some other countries too. Please write an email or phone us for other countries. We speak English.
Dipl.-Ing. Nicola Krämer
Lister Damm 13
30163 Hannover, Germany
Tel: +49 511 - 71 70 54 
Fax: +49 511 - 71 70 83
UK phone number redirected to Hanover: 01566-818187
E-Mail: info@shii-take.de